alBaraka Banking Group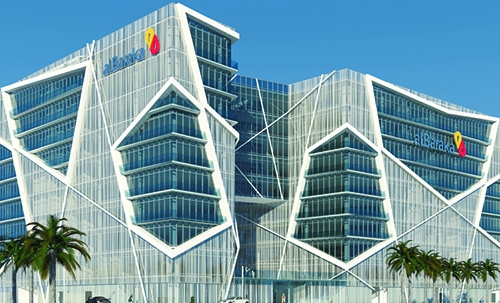 alBaraka Banking Group
alBaraka Bank Group B.S.C ("ABG" / the "Group") is licensed as an Investment Business Firm – Category 1 (Islamic Principles) by the Central Bank of Bahrain and is listed on Bahrain Bourse. It is a leading international Islamic financial group providing financial services through its banking subsidiaries in 16 countries offering retail, corporate, treasury and investment banking services, strictly in accordance with the principles of Islamic Sharia.
The Group has a wide geographical presence with operations in Egypt, Jordan,  Tunisia, Bahrain, Sudan, Turkey, South Africa, Algeria, Pakistan, Lebanon, Saudi Arabia, Syria, Morocco,and Germany, in addition to two branches in Iraq and a representative office in Libya and provides its services in more than 600 branches.
alBaraka Bank has a successful career for more than 20 years in the banking sector and as a leading Islamic institution, alBaraka Bank has been able to provide various and distinguished banking services and products that are suitable for all Customers' segments of society, all of which are in accordance with shariah provisions (deposits, certificates and sukuk)
It is worth mentioning that all operations of the Bank and its transactions are audited by an independent "Sharia" supervisory Board. The Bank provides direct financing to companies and institutions that enjoy high credit worthiness and participates in the syndicated loans of economically feasible large projects that provides several employment opportunities
alBaraka Bank Egypt is adopting a newly ambitious growth strategy for the upcoming three years (2023-2025) by implementing a comprehensive sustainable transformation approach that will lead to a radical change in the bank's strategic position and market share. The plan includes the development of the infrastructure, engineering, and technology to keep up with the latest banking technologies and digital transformation we well as strengthening the portfolio of products and services
The bank operates through a network of 32 branches covering Cairo, Alexandria and Delta, and aims to expand geographically by increasing the number of branches in most governorates by end of 2025. The bank has more than 1,000 qualified and skilled employees that provide the best banking and banking products and services to serve more than 140,000 customers.