Internet Banking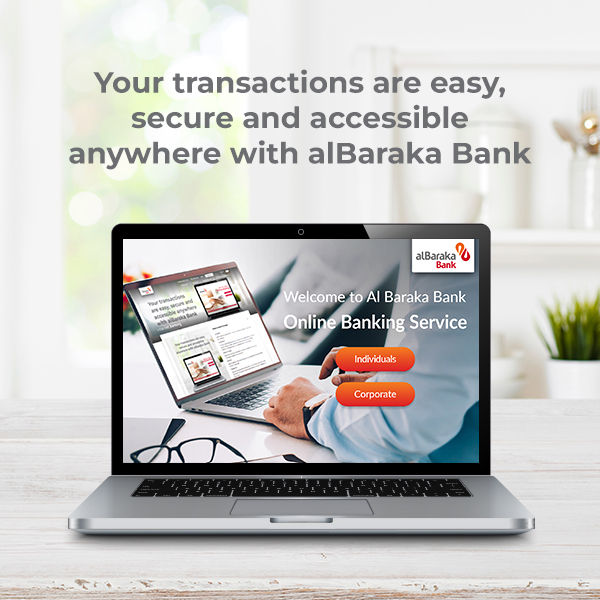 Al Baraka Internet Banking is a digital platform that enables you to make financial or non-financial transactions online. This service provides online access to almost every banking service traditionally available through branches, including fund transfers, deposits booking and other services. Internet banking can be used by any individual who has registered for online banking at the bank and has an active bank account.
After registering for online banking, you will not need to visit the bank every time you need a banking service.
Online Service Advantages

Availability

Internet banking is available 24/7. Most of the services available online are not time restricted.

Convenience

Through Internet Banking you can use almost all the banking services anywhere without visiting the bank, Internet Banking is not only fast but also highly efficient in letting you carry out transactions within a few minutes.

Activity Tracking

With internet banking, it becomes very easy to track the history of all the transactions initiated on your accounts.

Simplicity

Internet banking is very simple and easy to use, maybe easier than conventional banking in many cases.

Transparency

Feel safe and secure while dealing with our internet banking as we use a very high level of encryption to protect your information and your credentials are never stored.

Retail -Online Services

| Service | Description |
| --- | --- |
| Open account | You can open different account types with different currencies |
| Book a Certificate of deposit or Term deposit | You can book a certificate of deposit or term deposit online |
| Local transfers | You can add external beneficiaries and transfer to other banks in EGP (Requires OTP) |
| Transfer to other Al Baraka Egypt Bank customers (instantly) | You can transfer instantly to other Al Baraka Bank Egypt customers (Requires OTP) |
| Transfer between your own accounts (instantly) | You can transfer between your own accounts instantly which provide full account management for the users (Requires OTP) |
| Request a debit card or supplementary cards | You can request a debit card or supplementary card and select the delivery branch |
| Al Baraka Classic card settlement | You can settle your credit card payment online |
| Chequebook request | You can request your chequebook online and select the delivery branch |
| Request banker cheque | You can request banker cheque online and select the corporate branch |
| Account statement | You can track your transactions up to date, such as cheque settlement -cheque collection, transfers etc… |
| Updating your personal data | You can update your personal data online |

Privacy and Safety Instructions

While accessing your account and enjoying the online service please follow the privacy and safety procedures:

Keep your account (details/username/password) confidential and do not share it by phone calls, messages, or through social media applications such as Facebook or WhatsApp etc.
Make sure to use your private devices which should be fully secured against cyber-attacks or viruses.
Use the secured hyperlink on our website or sent by email from our bank, and make sure to check that the lock code that refers to connection is secured, and certificate is valid.

FAQs

How to register to online banking service?

You can register online through our hyperlink Register Now  and follow the instructions as follow

Please review the terms and conditions and press accept.
Enter your account number 19 digits.
Choose your username (letters and numbers).
Choose your password between 8-20 digit that consists of letters (at least one caps letter) and numbers and special characters such as -_=/,.@+!()$%#.
Enter your national ID.
Enter your mobile number with your country code eg.; 002010xxxxxxxx.
Enter your email and answer your security question.
Enter the requested OTP message.
Now please submit.

 then call our call center on 19373 to activate your online registration.

Or subscribe through one of our branches:

Go to the nearest branch to sign the online banking application.
Then you will receive an email with username and SMS with a password.
Use our hyperlink

Login

fill your username and password.
Change the password with new one not less than 8 characters and not more than 20 characters that includes at least 1 upper case, numeric, and special character such as @+!()$.

 

For More Information Please Watch this Video

 

What if I forgot my password or username?

You can call 19373 to resend your username or password after call center agent validating your identity. And for password you can use option forgot password at the left of the Prelog-in screen.

How to download Soft Token for OTP procedure?

To enjoy the OTP service, download Al Baraka Egypt Soft Token application on your mobile:

Go to (My Profile) and choose to (activate soft token) and follow the instructions.
After final submission, please log out and then in again to activate the service.
Now you can enjoy all services that require OTP.

How to book Certificate or Term Deposit through Internet Banking?

current online users can book CD and TD through online banking please follow the below steps:

Go to your online account and choose Banking.
Select Open Account then select Fixed Maturity Account, and enjoy our variety of certificates and term deposits.
Select renew account (if you want to renew it or not) if you choose (no)choose the (on maturity transfer to account).
Select the profit account.
Choose transfer from account.
Enter the amount.
Now submit your request.

How to settle Al Baraka Classic Card?

Current customers can settle credit cards online:

Go to your account choose cards and cheques.
Then choose card settlement.

How to add beneficiary for a transfer?

Online banking users can add, delete, or amend beneficiaries, either Al Baraka customer or external customer.

Go to your account and choose Banking.
Select Beneficiary Management, then based on your transfer select either internal favourite list -or external beneficiary.

make sure to fill full name of the beneficiary and full account number as follows:

For internal favourite list of Al Baraka customers (19 digits for account number).

For external beneficiary (IBAN or account number).

How to transfer online?

All transfers between online banking user and other customers are done in EGP and it requires OTP

Go to your online account and choose Banking Transfers.
Based on your needs choose one of the following transfers:
Transfer within my accounts (to transfer between same customer accounts) is available for both online registered customer and customer who signed the service application in nearest branch.
Transfer to Al Baraka predefined beneficiary (to transfers to Al Baraka Bank customers who are previously identified, the transfer is made instantaneously only for customer signed service form at the nearest branch.
Transfer to Al Baraka non-predefined beneficiary (transfer to non-defined Al Baraka customers done instantly) (only for customer signed service form at the nearest branch).
External transfer: to transfer to a list of added beneficiaries of other local banks, (only for customers signed service form at the nearest Branch).