Financial Inclusion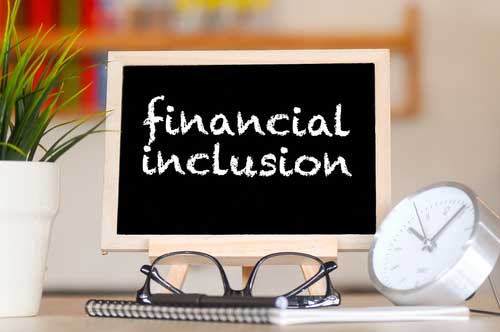 Banks play an important role in promoting financial inclusion by setting rules and legislation aimed to facilitate the procedures of banking transactions in all their forms and making financial services available for different groups of society, whether they are institutions or individuals, there are easy and simple ways at the lowest costs to achieve financial stability and economic growth. And in-line with the direction of the country and the Egyptian central bank to reinforce the financial inclusion and increase its rates, several initiatives, rules, and regulatory instructions have been issued to facilitate citizens interactions with banks, and adapt the regulatory environment, including the governing rules for classifying products and services of the financial inclusion issued in July 2019 and its modifications, aiming to integrate and add more citizens and economic activities clusters to the customer base of the banking sector, to benefit from the facilities provided by the Central Bank of Egypt.
Bank Accounts For Youth

Al Baraka Bank opens banking accounts for youth within the age group from 16 to 21 years old without parental consent, on conditions that the banking products offered to them is suitable with their eligibility limits and the size of risks related to the commitment with all rules and instructions, as follows:

Opening accounts offered to youth from 16 to 21 years old is limited to Egyptians only.
Clients within this age group are limited to Investment Saving only, certificates, and deposits with minimum 1000 Egyptians pounds and maximum 10000 Egyptian pounds (for those who have no commercial activity or source of income from a job, as in this case the maximum limit is determined within the income range).
Issuance of ATM Debit Cards for accounts, Meeza Prepaid Cards, subscription on the Internet Banking service and transacting according to the specified limits.
Fulfilling account opening KYC requirements like nationality, place of residence, and source of money that will be deposited into account.
Accounts opened for youth are exempted from account opening fees and debit cards are offered freely for the first year, to encourage their usage.
Account holder can't make account authorizations to a third party due to the limited eligibility as well as legal commitments, and checks can't be issued on the account.

Definition of Dormant Account and Active Account

Dormant Account: It's that account that no transactions have been conducted on it like (Withdrawal / Deposit / Transfer / Account Statement) for one year to the Current Accounts and Mobile Phone Wallets. And two years for saving accounts. Those Transactions conducted by the bank on clients' accounts are not considered among the transactions that reactivates the account.
Clients of Dormant Accounts: Are those where all their accounts are dormant at the Bank.
Active Account: The account that has one transaction conducted on it for at least once per year like (Withdrawal / Deposit / Transfer / Account Statement) for Current Accounts and Mobile Phone Wallets. And two years for Saving Accounts, from bank branches or any telecommunication media, or digital media available and through payment providers regarding mobile phone accounts.

Active and Dormant Accounts Terms and Conditions

1.If you have Current Accounts or Saving Accounts or any same conditions and there was no transaction from the following transactions (Withdrawal/Deposit/Transfer/Account Statement) conducted on it from the bank's branches or ATMs or Internet Banking for one year regarding current accounts, and two years for saving accounts.

The account will be classified as dormant and transactions will be disabled automatically, with the continuation of processing checks and adding returns and executing any permanent instruction on the dormant account, without the reactivation of the account.

2.In case there are dormant accounts and other active accounts, you can reactivate the dormant accounts through Bank branches or ATMs or services of Internet Banking.

3.If all your accounts (Current or Saving) are dormant, you will be classified as a dormant account client and disabled from conducting (Withdrawal, Deposit, Transfer, Account Statements) through Branches, ATMs, or Internet Banking Services.

And in this case you have to do the following as a minimum to reactivate the accounts:

A.Confirmation of the correctness of the account balance.
B.Write a request to reactivate accounts.

4.You will be notified via SMS on monthly basis and for the period of 3 months before considering the account as dormant, with the expenses and steps needed to reactivate the account.

Dormant Account Management Fees and Charges

An amount of 30 Egyptian Pounds or its equivalent in foreign currencies will be deducted for every Current, or Saving dormant account on monthly basis, starting from the month that the accounts were classified as dormant in it.

No fees or expenses will be deducted on dormant accounts if the balance of the account decreased to zero.
No fees or expenses will be deducted on the reactivation of the accounts.

The bank provides home visits to customers with disabilities and the elderly (over 65 years old) to activate dormant accounts, complete the data, and sign the required papers upon request, in accordance with the terms and conditions established in this regard.